For certain performances discounted tickets are available.
Please note that only one discount is available per ticket and that proof of eligibility must be provided at the Box Office.
Personal Assistant (Carer) Tickets: One free ticket for the personal assistant of a disabled person who is not able to attend the event unaccompanied. Please note: there are no free companion tickets on VIP tickets.
Find Out More
Friends of the Theatre Royal: 20% off for Friends of the Theatre Royal with occasional exceptions.
Find Out More
Partial View Seats: £4 off partial view seats (not applicable on Gallery seats).
Babes in Arms: For certain shows children under 3 are welcome, on purchase of a Babes in Arms ticket, and must share a seat with you.  Please note for some shows the age limit and price may vary. T&Cs apply.
Find Out More
Child Tickets (selected shows only): To qualify for a Child Ticket, you must be aged 16 years or younger.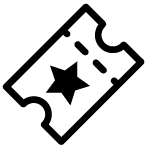 Concessions: There may be other concessions available from time to time on specific shows, please see individual show pages for details.